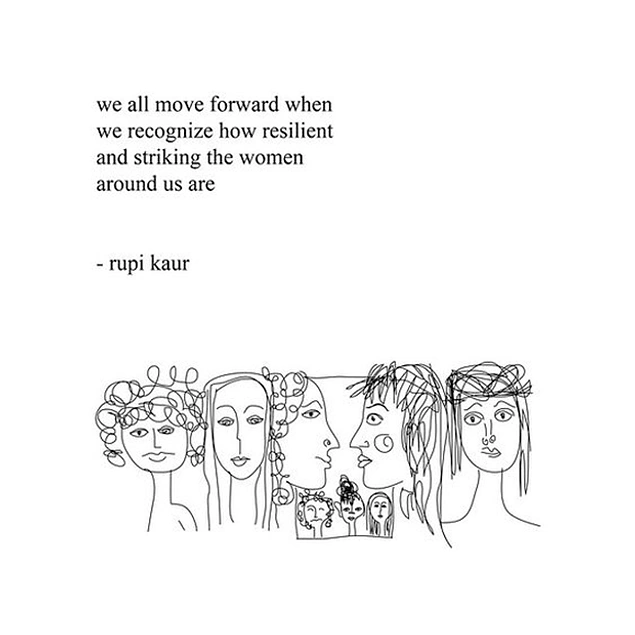 This month marks Women's History Month. It's a time where I reflect on how privileged I am to be surrounded by a group of women who have added so much to my life just by being in it.
I am also reminded of writers and poets (both past and present) like Woolf, De Beauvoir, Lorde, Walker, Kaur, Attwood and Evaristo whose words have not only added so much to my outlook on life but they also continue to remind me that as a woman I need to continue to listen, provide support and uplift other women. It is incredibly sad but necessary that we need to be reminded of the need to support one another.
Women's History Month has coincided with the murder of Sarah Everard, another of the many women who have been murdered by men whilst walking home alone. The policing and arresting of women at Sarah's vigil, the justifications for such arrests and the events themselves are now being reported as false. Followed by the government's predictable draconian response to silence and restrict protesting rights is maddening. And more importantly, the solidarity illustrated with women gathering to pay their respects to Sarah has now been spoilt due to these damaging enforcement responses.  
I find it so sad that commentary by some women surrounding the murder of Sarah had taken the stance of defending men. There are so many very good men in this world, and it is true that not all men are bad, but the reality is that men tend to be the perpetrators when other men, women and children are murdered.
We live in a society which reinforces gender inequality, oppression and stereotypes about women to the point that women internalise misogyny. As a result, some women are quick to defend men to the point that, in some cases, men who are the perpetrators are presented as the victims. And the women who are actual victims are blamed for their own victimisation.
This attitude towards women comes at the detriment of not allowing the space for people to begin to consider that femicide and gendered violence are the damaging consequences of living in an unequal society. The pain caused to the victims also becomes either diluted or made invisible. This is especially the case with Asian or Black women's victim experiences, as these are rarely found within the news, and if shown, are rarely believed.
There are many obstacles faced by women who attempt to flee routine gendered violence. Attempts to seek support can result in many women losing their homes, jobs and contact with their friends and families. As well as this, women who intend to report being victims of gender-based violence may battle to overcome the stigma that is attached to being a victim. For women with visas that state that there is 'no recourse to public funds' escaping violence becomes even more difficult, post Brexit, this now also applies to women from the EU.
Whilst online debates occur surrounding Sarah Everard's case, the reality is that many women are scared to walk alone. Many are also scared to live within their own homes due to the fear of violence. If we are quick to defend men in light of such tragic events how will we ever be able to support these women? How will they ever feel empowered to report being victims of crime? Yes, not all men are bad, but when a case like Sarah's is publicised perhaps our first response should be  empathising with other women.