Category Archives:
Gender
Recently we saw the killer of Sarah Everard receive a whole life sentence for her murder and with the sentence came the usual rhetoric from the politicians and media alike. I could tell you how I feel as a former police officer, but I just don't think that really matters, others have said it but what they say, undoubtedly with conviction, seems rather hollow. What matters is that another life has been taken as a result of male violence, not just violence, male violence. I don't disagree with those that want to make the streets safe for women, reclaim the streets, I don't disagree with the 'me too movement', but somehow, I feel that the fundamental issue is being missed. Somehow, I think that all the rhetoric and calls for action concentrate too much on women as victims and looking for someone or some organisation to blame. There seems to be a sense created that this is a problem for women and in doing so concentrates on the symptoms rather than the cause. This is a problem for men and our society. Let's not dress it up, pretend it could be something else, use terms like 'not all men', it is a fact nearly all violence, whether that be against women or men is perpetrated by … you guessed it, men.
I was watching a tv programme the other day about migraines and as it transpires there are millions of migraine sufferers around the world, most are women. It seems as a man I'm in the minority. One of the interviewees, a professor was asked why so little had been done in terms of research and finding a cure. He was frank, if it had been a male problem then there would have been more done. I'm not sure I totally subscribe to that because there are lots of other factors, after all prostate cancer a major cause of male deaths seems to have received comparatively little coverage until recently. But he made me think, if men, particularly those of influence accepted there was a problem would they be inclined to act? We call for more females in policing, we call for more females in the boardroom, predominately because we want to make things look a little fairer, a bit more even. We still have a massive gender pay gap in so many businesses and the public sector, we still have accusations and proven cases of sexual harassment. We still have archaic attitudes to women in so many walks of life, including religion. Words are great, useless but great. If you own the problem, you find solutions, men don't own the problem and that is a problem.
So, it seems to me, that we are looking in the wrong place. Removing Cressida Dick as the head of the Metropolitan Police service isn't going to change things. Blaming the police as an organisation isn't going to change things. Look around you, look at all the scandals, all the sexual offences against women, against children. Look at where the perpetrators are placed in society, in positions of trust, as members of a variety of organisations, organisations that traditionally we thought we could turn to in our need. And look at the gender of those that commit those crimes, almost always men.
The solution to all of this is beyond me. As a criminologist I know of so many theories about why people commit crime or are victims of crime. Some are a little ridiculous but are a product of their time, others fit quite nicely into different circumstances, but none fully explain why. There are no real certainties and predicting who and where is almost impossible. Somehow, we need our leaders, predominately men, to grasp the mettle, to accept this a problem for men. If we owned the problem, we might start to tackle the causes of male violence, whatever they might be. Maybe then we might start to address the symptoms, society will be a safer place, and nobody will need to reclaim the streets.
There's a pile of garbage I pass every day on the way to work. It stinks, and often I see folks hurling a bag of crap into the overflowing dumpster. Which usually rolls off and spills onto the walkway. It sucks! It's one of the reasons we were wearing masks here long before Covit. Yet, I see this scene, and also see, the old women who make their rounds on bicycles throughout the day, going from dumpster to dumpster, separating and gathering the recyclables, re-usables, up-cyclables, and genuinely turning this trash into an income stream. To protect from the sun and elements, they wear coverings from head-to-toe: masks, gloves and those cone-shaped, bamboo/palm-leaf hats traditionally worn on farms. 
Tucked in the corner about six meters away, I pass a woman who has a tea stand under a large umbrella, under a giant tree. Hanoi is full of such vibrant trees; at least three people can comfortably sit across the diameter. I am in awe each time I pass. Like the other ladies dotted around our lake, she sells snacks, cigarettes, and small glass cups of ice-cold green ice tea. You can see piles of used tea leaves on her end of the dumpster. I've noticed that mostly motorcycle taxi drivers take refuge there, monitoring the App for a nearby ping.
Later that night, I can hear and see a garbage truck come by and hoist the dumpster up and empty it into its bowels. Hanoi has many narrow streets and alleyways – narrower than these trucks – so luckily collection is often done at night. This certainly helps keep the traffic flow during busier times. Worse still, if not for these dumpsters folks would burn even more rubbish along the streets than is already customarily tolerated. In addition to these toxic fumes, consider the ritual imitation money that many local families burn twice monthly as an offering to their ancestors. Toxic fumes are another reason many 'stay' wearing a mask in Hanoi. I look at all the plastic dumped in the dumpster, and am relieved that it won't be burned here. I see all this, too, as I walk by each day.
What's more, I've been out late nights and seen plenty of these trucks totally teamed by women. This overflowing heap of hot, disgusting mess reminds me that I am in a society where women participate in everyday ways I hadn't even ever dreamed. This heap will be gone soon, and replenished for all these women and their work. This makes me smile as I pass the heap. Using mindfulness, I can no longer smell the stench, it smells like flowers. Today, roses.
Late-night rubbish collection in Hanoi. All female team.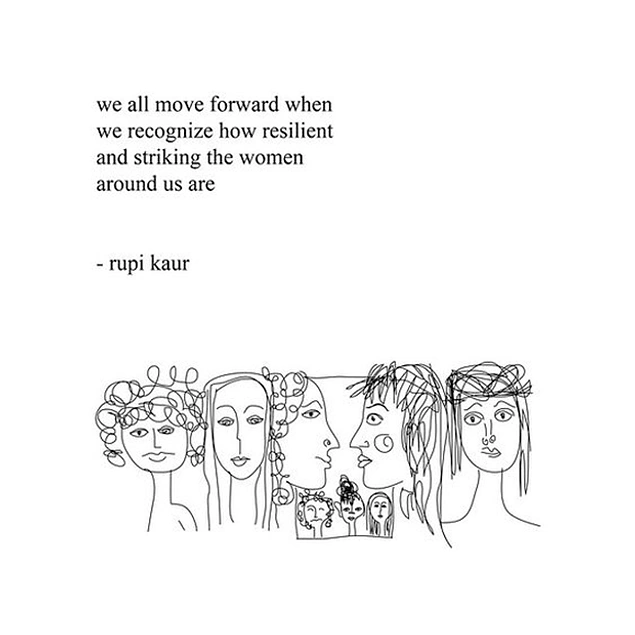 This month marks Women's History Month. It's a time where I reflect on how privileged I am to be surrounded by a group of women who have added so much to my life just by being in it.
I am also reminded of writers and poets (both past and present) like Woolf, De Beauvoir, Lorde, Walker, Kaur, Attwood and Evaristo whose words have not only added so much to my outlook on life but they also continue to remind me that as a woman I need to continue to listen, provide support and uplift other women. It is incredibly sad but necessary that we need to be reminded of the need to support one another.
Women's History Month has coincided with the murder of Sarah Everard, another of the many women who have been murdered by men whilst walking home alone. The policing and arresting of women at Sarah's vigil, the justifications for such arrests and the events themselves are now being reported as false. Followed by the government's predictable draconian response to silence and restrict protesting rights is maddening. And more importantly, the solidarity illustrated with women gathering to pay their respects to Sarah has now been spoilt due to these damaging enforcement responses.  
I find it so sad that commentary by some women surrounding the murder of Sarah had taken the stance of defending men. There are so many very good men in this world, and it is true that not all men are bad, but the reality is that men tend to be the perpetrators when other men, women and children are murdered.
We live in a society which reinforces gender inequality, oppression and stereotypes about women to the point that women internalise misogyny. As a result, some women are quick to defend men to the point that, in some cases, men who are the perpetrators are presented as the victims. And the women who are actual victims are blamed for their own victimisation.
This attitude towards women comes at the detriment of not allowing the space for people to begin to consider that femicide and gendered violence are the damaging consequences of living in an unequal society. The pain caused to the victims also becomes either diluted or made invisible. This is especially the case with Asian or Black women's victim experiences, as these are rarely found within the news, and if shown, are rarely believed.
There are many obstacles faced by women who attempt to flee routine gendered violence. Attempts to seek support can result in many women losing their homes, jobs and contact with their friends and families. As well as this, women who intend to report being victims of gender-based violence may battle to overcome the stigma that is attached to being a victim. For women with visas that state that there is 'no recourse to public funds' escaping violence becomes even more difficult, post Brexit, this now also applies to women from the EU.
Whilst online debates occur surrounding Sarah Everard's case, the reality is that many women are scared to walk alone. Many are also scared to live within their own homes due to the fear of violence. If we are quick to defend men in light of such tragic events how will we ever be able to support these women? How will they ever feel empowered to report being victims of crime? Yes, not all men are bad, but when a case like Sarah's is publicised perhaps our first response should be  empathising with other women.  
On International Women's Day I wanted to write a blog to celebrate the incredible women who have inspired me, supported me, fought for the rights of women all over the world both past and present. Perhaps that post will come but I felt sadness and anger, rage that made me want to shout and swear from the rooftops that feminism is not done. Gender equality has not been completed. We may have advanced a few levels, but patriarchy is still alive and free right here in England as well as throughout the world. The reality is that gender equality is a myth. Ordinarily I'm more hopeful and positive and maybe the pandemic combined with finishing my PhD is pushing me over the edge. But as well as celebrating International Women's Day I wanted to identify some of the areas in which there is work to do, both in the UK and worldwide.
On the week of International Women's Day, the media has been filled with women, but not for the right reasons. Let us start with the interview broadcasted on International Women's Day with Megan Markle and Prince Harry which highlighted not only her position as a woman but also the intersectionality of being a woman of colour in the royal family and the implications of this. The interview was responded in an appalling manner by Piers Morgan who questioned her experience of feeling suicidal which was then reflected on social media (never read the comments!!!). A woman's experiences with mental health were questioned and ridiculed. Not long after the tragic death of Caroline Flack, people – including many other women – have forgotten to #bekind. The investigation over the disappearance of Sarah Everard was responded to by the Met police advising women in the local area not to go out at night, perpetuating a culture of victim blaming. A woman's actions were being questioned. So here we are in 2021 with our internal thoughts and emotions and our external actions being judged by others. When women have spoken out about our right to feel safe walking home at night, about how we walk the long way home and hold a key between our fingers for protection, #notallmen resurfaces on Twitter, in a similar tone to #alllivesmatter last year. When one group renews a call for equality, the patriarchs and supremacists oppress harder. These are just a couple of examples in the media, the public domain, this week but there is also clear inequality in domestic life.
Throughout the pandemic there have been numerous reports suggesting that women have disproportionately undertaken childcare which has had a devastating impact, particularly for single mothers. While data from the Office for National Statistics shows that home schooling is distributed equally in mixed sex couples, women have undertaken substantially more of non-developmental childcare – the bathing, bedtime routine, feeding etc. I recall the days of being a working single parent with a small child. With no after school club and no family available to chip in, I relied on childcare swaps, a childminder (who I couldn't afford to pay more than a couple of days per week). It was a case of beg, borrow or steal whatever childcare I could get to get to work and would often miss lectures because I didn't have any childcare (note to students – if you have childcare responsibilities and are struggling please do not hesitate to drop me an email. I have almost a decade of experience juggling kids with studies and I am always happy to share tips or just have a mutual rant about how hard it is!). I cannot imagine how I would have managed with the pandemic if my children were younger. I am lucky enough to work in a team where my colleagues don't bat an eyelid when my teenager pops her head in asking for food or help with schoolwork but I do have friends telling me how their male counterparts have given them advice on how to juggle virtual meetings with parenting small children. Men (not all men – some men are excellent allies) having no clue how hard women have to fight as women to do it all – the career, the childcare, the housework, all while earning less than our male counterparts (currently 15.5% less). Of course the data on equal pay is complex but the bottom line is we get paid less, it's harder to advance our careers because as we live in the bodies that produce babies and we have career breaks when we take maternity leave or go part time while the children are young – the only way that can change is if we choose not to have kids and we are criticised for that too!
I have so far established that the UK is hostile in the media and not equal in the home and employment but where do we sit globally? It was placed 21st on the Global Gender Gap Index 2020. Do you think you could guess which countries are higher than the UK? Go on, spend a minute and write down who you would expect to be in the top 20. Of course, there are the countries one might expect – Iceland is top of the list, Norway, Finland and New Zealand too. But let's throw a curveball in there. Albania. Having worked with and interviewed many female Albanian asylum seekers and refugees who have usually fled Albania due to at least one but often many forms of gendered violence this comes as quite a surprise to me. Of course, I have a biased experience and have only come into contact with those who have had devastating experiences of patriarchy in the country. Rwanda is up there too within the top 10. Not long after the devastating genocide in Rwanda where women were brutally raped as a weapon of war (see here for a cheeky plug and an analysis of sexual violence in conflict in a different geographical context). Today, women make up half of the politicians in the country. Women have risen up and have taken power. In the UK I look at the female politicians in power today and in recent years and I recoil in horror. Priti Patel is probably (barring the Queen) the most powerful female politician in England. I witness first hand in my work with asylum seekers the harm she causes every day. Intentional harm, following in Theresa May's footsteps to create a hostile environment for migrants. These women are not the people I want to look up to, or want my children to look up to. In fact, one of the few shared interests my daughter and I have is our disdain for these women.
The women I do look up to are those asylum seekers Patel and her band of merry men at the Home Office are trying to repel. Those who have fled situations that I, as a middle class white woman cannot even begin to comprehend. All the women who I have interviewed in my doctoral research had either fled gendered violence including forced and child marriage, domestic abuse, sex trafficking and honour violence; or their gender had intersected with other forms of persecution making their living situation untenable because they were women. They fled life or death situations to the point of leaving their homes, families and countries because their governments could not, or would not, protect them. They arrive in the UK and are faced with the hostile environment conjured by May and continued by Patel and both the Home Secretaries in between. They face structural violence in the forms of forced poverty, illegal detention, substandard and sometimes dangerous accommodation perpetrated under the mandate of women. All the while being vilified by the tabloids and swathes of the public. Some of my participants arrived here as children and were bullied in school because they were asylum seekers, being told that they were taking jobs and money. The bullies could not comprehend that they were prohibited by law from working and were given £5 per day to live on. They then hid their identities, never telling anyone that they were an asylum seeker, lying to their friends about why they couldn't go on college trips abroad, why they couldn't have a bank account, why they couldn't get a job or go to university.
I want to celebrate Amira* who defied the odds. She came here when she was in her early teens, knowing just a few words of English. She worked hard to learn the language and passed her GCSEs and A-levels, gaining a competitive Sanctuary scholarship which funded her university education. I want to celebrate Drita, an Eastern European woman who was physically abused by her father as a child, forced to marry an abusive man who eventually left her destitute with three children. She then left her children with her parents while she sought work, got a boyfriend who sold her into sex slavery, set her room on fire to kill herself but managed to escape, picked up her children and fled a lifetime of gendered violence from every man she had ever met. She spent 2 days in a lorry with her children to get to the UK. Not really the UK, she would have gone anywhere, just out of her country to safety. These women are survivors. These women fought to stay alive. They fought to escape. They didn't escape. They arrived here to face May's legacy of a hostile environment. These women are terrified every time they have to report to the Home Office, every letter they get threatens them with detention and deportation and reminds them that they or on bail, literally equating them with a process usually found in the criminal justice system. These women are heroes and should be celebrated for surviving. On International Women's Day yes, let us celebrate all that all we have achieved so far but it cannot end here. Each year we need a renewed call for action for women.
*All names are pseudonyms to protect the anonymity of participants
In the second grade, I started in a new school that was designed as a progressive environment where students, teachers and administrators were all on a first-name basis. Radical, even in '82, our school was forward about gender, race and class diversity. Despite this, I only had one Black teacher in my elementary school years – the amazing music teacher. As kids, we could see few other Black adults: the assistant librarian, a handful of the lunchroom ladies, as well as the Black middle- and high-school teachers we saw in the same building. This meant that the Black adult we most consistently interacted with was Miss Saundra, the janitor. 
Miss Saundra appeared around corners, could surprise you out of a closet you hadn't even noticed was there. She was always on hand should there be any major mess or spill. Best of all, our school gleamed from top to bottom, every classroom, every hallway, every bookshelf, every restroom – every desk! It felt lovely to go to school every day, the floors shined, the windows sparkled, and even the banisters were pristine. I am certain this level of hygiene must have taken a team, but I remember Miss Saundra, probably because she was friendly to me. I can still see her, unbending her back to look at us, and speak face to face.
If I ever had to come to school early to play in the gym or have breakfast, or stay late for an after-school activity, Miss Saundra would likely be there, tidying up. She always took time to greet us. She was even there for school dances, and asked nothing in return, and we knew nothing of her outside the labor she devoted to us in the background. She was our school's magic negro.
Other than the school guard who was not armed with anything but charm, Miss Saundra, might have been the first at school, followed by the ladies making breakfast. These were our essential workers – like the air we breathed in the heart of our city. I like to think because of their personalities we felt at home in our environment and therefore enjoyed school more fully.
Kids carry on.
When I was in the third grade, our teacher – a tall, grey-haired white man of grand stature who taught me I could master math even though it wasn't easy for me – sent all the girls ahead to music class. He held the boys back for a chat. Apparently, someone had urinated in the second-floor boys' bathroom, and they'd worked out that only our class had taken a break between cleanings. Since teachers had separate restrooms, I thought it must have been Miss Saundra who'd discovered the mess, and so I wondered what that conversation was like with our teacher, who was now accusing us! Though he didn't demand we rat out the culprit, he called it "nasty," and said we could get electrocuted, because "electricity travels through water," wagging his index finger like it was on fire. With that, he sent us off to music!
This was probably the first time that I'd been explicitly asked to identify as a gender, and it was over THIS! I knew that whoever had done it would have needed an audience. So not only did some fool piss on the wall, some other fool(s) stood around and watched! I thought, what bastard did this! Didn't they know Miss Saundra would have to clean it? Didn't she greet them, and ask them how they're doing like she does me? Did they 'see' Miss Saundra everyday like she saw us? Why would they piss on her parade? Why give Miss Saundra the blues for your pissing contest!
I stopped by the bathroom on the way back from music class. Sure enough, Miss Saundra had been done had it squeaky, bleachy clean! I could never have imagined girls' doing something like that.
I knew that like me, Miss Saundra was an outsider in a space where I belonged. I knew people like Miss Saundra, so she was not a stranger to me. I had no ambitions of becoming a janitor, but I certainly knew women, in my family and in my community, who did this sort of work. And those women I knew who did that sort of work encouraged people like me to do well in school, so I could take advantage of the kinds of choices they didn't have. I had no reason to think Ms. Saundra less of me. What's more, even though I felt strange in my own body, she treated me as human, especially. The gratitude I feel for her sounds like a tambourine in my own theme song.
#EssentialWorkers, #SanitationWorkers
The British, so it seems, love a statue. Over the last few months we've seen Edward Colston's toppled, Winston Churchill's protected and Robert Baden-Powell's moved to a place of safety. Much of the narrative around these particular statues (and others) has recently been contextualised in relation to the Black Lives Matter movement, as though nobody had ever criticised the subjects before. Colston, one time resident of Bristol and slave-trader was deemed worthy of commemoration some 174 years after his death and 62 years after the abolition of slavery. Likewise, one-time military man, accused of war crimes, homophobe and support for Nazism, Baden-Powell suddenly needed to be memorialised in 2008, almost 70 years after the second world world (and his death) and over 40 years since the passing of the Sexual Offences Act 1967. For both of these men profound problems were clear before the statues went up. Churchill, seen as a "hero" by many for his leadership in World War II has a very unsavoury history which is not difficult to locate in his own writings. His rehabilitation also ignores that his status for many of his contemporaries was as a warmonger. His passion for eugenics and his role in decisions to bomb Dresden, Hiroshima and Nagasaki can be wilfully swept under the carpet. Hero-worship is a dangerous game, it is also anti-intellectual. Churchill, like all of us, was a complex human, thus his legacy needs to be explored deeply and contextualised and only then can we decide what his place in his history should be. His statues and soundbites from speeches on repeat, do not allow for this.
Perhaps the most interesting part of this debate is to witness the inflamed defence of individuals who have a clearly documented history as slave owners, or as enthusiastic proclaimers of eugenic ideology, racism, homophobia and so on. As long as they have been ascribed "hero" status, we can ignore the rest of the seedy detail. We are told we need these statues, these heroic men, to remind us of our history….strangely Germany is able to reflect on its history, without statues of Hitler.
It seems as a nation we far prefer these individuals, responsible for so much misery, harm and violence in their lifetimes, than to present Black Britons and British Asians on a plinth. When we are reliant on South African President, Nelson Mandela to take up two of those London plinths, it is evident we have a serious racial imbalance in those "we" choose to commemorate.
Furthermore, the British appear to love an argument about statues, for instance, the criticism levelled at the artist Maggi Hambling's statue to "Mother of Feminism" Mary Wollstencraft and Martin Jenning's artistic tribute to Nurse Mary Seacole. For Wollstencroft, much of the furore has been directed at the artist, rather than the subject. There appears to be no irony in women attacking other women, in this case, Hambling, all in the name of supposed defence of The feminism. In the case of Mary Seacole, racially infused arguments from The Nightingale Society have suggested that this statue should not be in sight of that of Florence Nightingale. It seems that even when all important parties are long dead, it is deemed appropriate to use barely disguised racism to protect the stone image of your heroine. Important to remember that patriarchy has no gender. It is evident that criticism revolves around women's representation in statuary, as well as women's involvement in sculpture. When statues of men are said to outnumber those of women by around 16 to 1 (and that's only when Queen Victoria is counted) it is evident we have a serious gender imbalance in those "we" choose to commemorate.
If there's one thing the British love more than statues, it's war commemorations. Think of the Cenotaph, standing proud in Whitehall, a memorial to 'The Glorious Dead' of firstly, World War I and latterly, British and Commonwealth military personnel have died in all conflicts.
Close by in Park Lane, we even have the imagination to create a memorial to Animals in War. We love to worship at these altars to untold misery and suffering, as if we could learn something important from them. Unfortunately, the most important message of "Never Again" is lost as we continue to thrust our military personnel and their deadly arsenal all over the world.
There is a strong argument for commemorating the war dead of all nations in the two World Wars. All sides, both central powers/axis and allies were comprised in the main of conscripted personnel. These were men and women that did not join the armed forces voluntarily, but were compelled by legislation to take up arms. With little time to consider or prepare, these people, all over the world, were thrust into life-threatening situations, with little or no choice. The Cenotaph and other war memorials mark this sacrifice and to some degree, acknowledge the experiences of those who served in a uniform that they did not consent to, without the compulsion of legislation. Unfortunately, civilians don't feature so heavily in memorialisation, yet we know they experienced life-changing events which have repercussions even today. From children who were evacuated, to families who experienced fathers and husbands with short fuses, to those whose fear of hunger has never really left them, those experiences leave a mark.
To me, as a nation it appears that we don't want to engage seriously with our history, preferring instead a white-washed, heteronormative, male-dominated, war-infused, saccharine sweet, version of events. But British people, both historically and contemporaneously, are a diverse and disparate group, good, bad and indifferent, so surely our statues should reflect this?
I recognise the violence which runs throughout British history, I learnt it, not through statues, but through books and oral testimony, through documentary and discussion. I also recognise that I have only begun to explore a history that silences so very many, making any historical narrative, partial, poignant and heavy with the missing voices. I recognise the heavy burden left by slavery, discrimination, war and other myriad violences, understanding the desire to commemorate and celebrate and tear down and replace.
What we need is a statue that recognises all of us, in all shapes and sizes, warts and all? We are living in a global pandemic, the death toll is currently standing at over 2.5 million. In the UK alone, the death toll stands at close to 100,000. Why not have a memorial with all those names; men, women, children, Black, white, Asian, mixed heritage, Muslim, Catholic, Buddhist, Christian, atheists, gay, straight, trans, lesbian, young, old and all those in between. People that have been coerced, through financial impetus, caring responsibility, career or vocation into dangerous spaces, who have not chosen to sacrifice their lives on the altar of bad decisions taken by governments and institutions (reminiscent of the world wars). Such a commemoration would be a way to recognise the profound impact on all of our lives, as drastic as any world war. It will recognise that you don't have to wear a uniform or conform to a particular ideal to be of value to Britain and every person counts.
* Title borrowed from 'Our sheroes and heroes' (Maya Angelou ; interviewed by Susan Anderson in 1976)
I think that I am becoming one of THOSE Black people.
I think that I am becoming one of those Black people who doesn't speak about race in mixed company, at least not casually, and certainly not in any space not specifically determined for such a conversation. If the invitation doesn't say 'race' in the title, then I most assuredly won't be bringing up sexism, racism nor classism, nor religious chauvinism – even if social status is evident and apparent by the time we get there. It's too complicated, and I've been the unwitting sounding board too often for too many illiberals, or just folks who hadn't ever really taken any time to (attempt to) put themselves in anyone else's shoes – not even as a mental exercise to forward their own understanding of our world and its complexities.
Hurt people hurt people
I am an empath, and so shifting through perspectives is more organic to me than seems 'normal'. Empaths more naturally take that Matrix-style 360-degree snapshot of any given scenario, distinct from neurotypical folks. I am also 'a black man in a white world', a gay man in a straight world, a Buddhist man in a Christian world, so I supposed I have made it a survival tactic to see the world through other's eyes, knowing full well most hadn't even considered I'd existed. It's only other empaths who aren't so surprised how we all got here across our differences. I have not had the luxury of surrounding myself with people just like me, and yet this has rarely made me feel unsafe.
This snapshot is also a means of connection: I like people and usually see similarities between people where they usually show me they've only ever seen differences. This isn't to imply that I am colorblind or don't see across differences. Naw, it's that I am more interested in sharing hearts, no matter how deeply one has learned to bury and conceal theirs. Hence, I usually respond with "why" when told something ridiculously racist or sexist, and ask "how come you think that," when something homophobic is said; and then I patiently listen. I genuinely want to know. I've observed that this response can throw people off balance, for they've become accustomed to people either joining in or ignoring their ignorance. Really, no one ever purely inquired how'd you become so hate-filled!?!
I wear my heart on my sleeve for I know how to recover from the constant assault and barrage of disconnection. Yes, it saddens me that so many have been so conditioned, and convinced for so long that we are so disconnected.
They want our

RHYTHM

but not our

BLUES
Now, with my elite education and global aspirations, I often gain access to spaces that explicitly work to exclude people from any non-elite backgrounds. It's not that I want to pass as anything other than myself, it's just that I am often surrounded by folks who rarely seem to have considered that someone could – or would – simultaneously exist in a plethora of boxes. I can't fit into any one box other than human. Yet, I used to try to fit in, to avoid standing out as a means to shield myself from the bullying or peering eyes and gossip as folks try to figure out in which box I reside – a classic tactic of projection.
I am a dark-skinned Black person with a nappy head and a stereotypical bubble butt. I neither bleach my skin nor straighten my hair, so I am identifiably Black up-close and from afar. I don't even hide my body under baggy clothes, so even my silhouette is Black. I've lived, worked, studied and traveled in North America, western Europe, west Africa as well as north, south and southeast Asia, so I've taken 360-degree snapshots of radically different societies 'seeing' a Black man, and oh how radically different the reactions. I'm becoming one of those Black people who notices this, but won't speak about race in mixed company because as an empath, one sees how defensive people become when raising race. I went through a phase where I would more readily speak about gender, then draw the parallels to race and class, for most folks can only handle one form of oppression at a time (fellow Audre Lorde fans may appreciate that pun).
Hello, my name is: Diversity.
I think that I am becoming one of those Black people who never questions people when they describe their backgrounds as 'good', when all they really mean is moneyed, racially and religiously homogenous. Many get all defensive when I reveal that my entire education was radically diverse by design, from second grade through my master's. I know I had a "better" education than them because I was taught inclusion alongside people who were similar and different from me – and we went to each other's homes.
I don't look in the mirror and say 'hey diversity'; I just see the face I was given, and do with it what I can. Yet, I have often been called upon to speak on behalf of many people. I offer my opinion, or relay my observations, and suddenly I am a spokesman for the gays, or the Blacks, rarely just me. So, what's it like being on the inside of cultures of power? Darnit, I shan't ask that either!
A superhero walks into a bar.
A reporter walks up and offers a drink.
They end up spending the night together, and a love affair ensues.
*
A superheroine walks into a bar.
A reporter walks up to her and offers a drink.
They end up spending the night together, and a love affair ensues.
*
A Black superheroine walks into a bar.
A Black reporter walks up to her and offers a drink.
They end up spending the night together, and a love affair ensues.
*
A Black superheroine walks into a bar.
A Black woman reporter walks up to her and offers a drink.
They end up spending the night together, and a love affair ensues.
That's Black Lightning.
*
Superman and Lois Lane got to love one another, and
Wonder Woman fell in love with the first man she met.
For generations of Sci-Fi and superheroes,
Everybody was straight and white.
The Star Trek franchise has been imagining a fairer future since the 60's, but
It's only now -on the newest Star Trek show – that
Yellow, black, white, red and brown people portray species from throughout the galaxy.
Finally, things as fickle as religion or gender identity aren't barriers to love.
*
I earnestly wonder if it was the creators or the audiences who couldn't see anybody else loved, but straight white people?!?
That only straight white men could save the day.
Representation matters.
Which superhero did you see at first?
A sissy works at the beer garden I pass on the way home. In Vietnam, these common watering holes are called "Bia Hoi," and this one sits at the intersection of two major roads, across from one of the city's largest parks, on a corner adjacent to one edge of a university campus. To say that this place is a sausage fest would be an understatement. Like drinking holes in so many parts of the world, this is a space for men.
Men come here. Me, too. Although I stick out as a visible foreigner, I am part of the crowd of men. In every part of the world I've encountered, there's nothing weird about a guy sitting around having a beer. Hence, it's not uncommon for local groups of men to send one over, or invite me to their table for a drink. This has drastically different implications than men in pubs buying drinks for women, especially a woman sitting alone in a drinking hole, which is the LEAST likely thing to see here, despite the number of Bia Hoi's owned and run by women in Vietnam. The majority here are either men in starched shirts and slacks stepping out, or other groups of guys crossing from the park to gather here for a post-match drink. I started coming here years ago with a man I met through work, and stop by every now and again. As compared to other masculinized spaces, there's no competition here, and the primary resource – beer – flows freely.
The sissy wears an apron to serve the food and beer. He ties his apron tightly over the same loose orange T-shirt all the other guys wear to serve. This, of course accentuates his curves. While the others walk around baggy, clothes hanging loosely like a barrel sac, with this apron, the sissy has seriously upgraded the uniform with color, shape and flare. What's more, his hips switch back-n-forth, too quick to be a pendulum. Naw, he switches like nobody's business, and you really see this the way the beer garden is set-up with several rows of long tables. This is his cat walk. While the other servers seem to be drudging through the labor, the sissy flutters around like a butterfly. And he always looks at each customer, takes time to chat, and seems to have the patience of Job when it comes to their eventual drunkenness. Beer loosens tongues.
The sissy has to march back and forth the serve the orders like a busy bee. It's hot, so the sissy fans himself with the menu, like it's a prop, as he prances up-n-down the rows as if it's his own stage. Everyone else pales in comparison, they're just there to work. The sissy is there to 'work', or as Fergie says: "Make YOU work!" Life's a stage, they say, and er'body gotta play they part.
The sissy stands at each table like a tea-cup, grinning, weight shifted to one leg, hips leaning to the side, back arched, hand on his hip, holding a pen waiting for the men to call out their food orders. Unlike the other servers who seem to just stand there bluntly to take orders, the sissy acts like a host, and actively shows folks their seats, offers that they take a look at the menu, and genuinely makes sure they are all satisfied.
This sissy has mad flavor, even in this part of his career – of which I know nothing – save for what I've seen of him serving beer in a local Bia Hoi. He makes such a flutter when he moves around, just doing his job, that I too, see him on stage, among peers, not drowning in this mundanity. I almost wish he would bring some Hot Lunch from Fame, for those hips are already singing the body electric. Those shoulders practically shimmering as he walks friskily across the pavement, arms stretched open, elbows squeezed, holding a beer in each hand – swish, swish, swish. I can see the musical notes floating around him as he makes his way, doing his job dutifully, albeit with Glee. "Just do it," I want to say to the sissy. Free us from these seats.
In some places, even today, our existence is a crime.
#ProudBoys