Category Archives:
Cisgender
In Honour of my two teachers' passing (seen together here). Rest In Power, bell hooks (d. 15/12/21) and Thich Nhat Hanh (d. 22/01/22).
If we could empathize with all life, we…
… wouldn't treat all animals as either food or fodder.
… wouldn't develop nuclear technology into bombs.
…would never show an interest in making so many guns and ways of destroying life.
…would more genuinely aim to achieve mutual understanding between individuals.
…wouldn't have so much intergenerational trauma within families, communities, nations.
…would be more neighborly in all our affairs.
…wouldn't treat trade like a sport, a winner-takes-all competition over natural resources.
…would harness the power of the sun for it shines on all life collectively.
…would cultivate care, and be kinder as a general rule.
… would teach kindness in school, a required class on every campus.
…would not build entire ideologies, systems of government, religions, arts, and culture around patriarchy.
… would not be reduced to binaries, not just in gender, but 'black or white' in our overall thinking, because that's where it came from: A false yet powerful and enduring dichotomy.
Binary thinking produced gender binaries, not the other way around. Knowing this is key to its undoing. Please know that capitalism produced racism, and greed crafted classism. A2 + B2 = C2, still. Racism is exponentially untamed greed; and patriarchy an inferiority complex run rampant and amok. Such cultures of greed can't be conquered by competition; greed can't be beat! We need a new dimension.
If we could empathize with all life, we would aspire to be far more fair.
If we could empathize with all life, we would love more.
Your turn.
Fill in the blank.
In America, and most certainly in the land of Dixie and cotillions, at the end of junior high school year we have a tradition of getting our senior class rings. By "getting," I mean individually buying a ring from the same one or two companies in our city who cash in on this ritual annually. We knew that many of us had to foot the bill with our own after-school jobs, while others' parents could virtually write a blank check! (Hopefully, at least, or perhaps most assuredly, somebody in the school system gets a kickback from all this cash flow.)
While class rings appeared personalized, the rings – and the ritual – were effectively mass manufactured, complete with standardized shapes and design features: school's name and mascot – in our case a bear – class year (1993!), and maybe our initials inscribed inside. Oh, and a heteronormative adolescent sexualized ritual to which I shall return shortly.
Rings are generally presented at a school ceremony. Until graduation, class rings are worn facing the wearer as motivation towards the ultimate achievement, after which it is worn outward as a badge of pride and honor. A graduating class could all agree to the same design – usually the school colors – which I believe the majority of my class did. While I prefer the look of silver against my dark skin, our school colors were royal blue and gold, so classes at our school often got blue sapphire set in the lowest Karat gold available that didn't look cheap. For such a notoriously liberal school (i.e., gender and racially/geographically* integrated by design), this was one of the few explicit acts of conformity.
'You Wear it Well' – DeBarge, 1985
The next part of the tradition is having 100 different people turn the ring, as sort of an acknowledgement of becoming a senior. The first 99 turn it in one direction, while the final person reverses the order. This clockwise/counter-clockwise turn seals the deal. Yet get this, you're supposed to kiss the hundredth person who turns the ring. You say the word "kiss" in front of most any group of adolescents and they'll giggle. We knew what kind of kiss was meant. FRENCH like fries! Somehow becoming a senior in high school had been coopted by this hetero-ritual, a hetero-rite of passage (het-or-no-rites!).
I am troubled that this academic milestone is linked to gender. Worse, the ritual is predictably a performance act that fixes gender to normative sexual roles; yes, heteropatriarchy. Worse still, this binary gender performance is discrete, couched in achieving a basic education.
The ring dealer comes to school and makes a sales pitch to the class, and sets up a booth in the lobby after school. In his pitch, he promises a 'free' glossy little form to collect all the signatures. It was a bait and switch. These dealers sold us the rings but gave us the forms, the evidence we needed to prove we'd passed another stage towards adulthood. And what were we supposed to do with the blank glossy forms? Come back to school and boast?
The first 50 or so signatures were just us. Our own schoolmates turning each other's rings, filling in each other's forms on the very day the rings arrived. Family filled in a lot, too. I distinctly remember a teacher or two requesting to be excluded from the tradition, or take part in the ring ritual of becoming a senior, else we whittle their fingers away.
We all know everybody only wanted to see who signed the final line – a prompt to incite heteronormalizing speech-acts. Well, a few folks weren't single and already had that 100th spot reserved and filled by sundown. Needless to say, kisses from granny don't count! I'm pretty sure this wasn't written on the dealer's well-crafted sheet. Our market dominated, heteronormative introduction to adulthood for all to see.
I'd attended the same school since second grade so I'd seen people celebrate this class ring ritual for years, and even attended several graduations. I'd watched the "Senior run" year after year – a day at the end of school, when the graduating class runs through all the halls, cheering, banging on lockers as all the kids in all the classes rush out to line the hallways and egg them on. I loved school, adored our school, adored my classmates, and even looked forward to our turn, though parting so bittersweet.
At 16, I was only starting to be able to fully disidentify with the barrage of heterosexualized norms that engulfed me. I had to disentangle heterosexuality from virtually every facet of life – even finishing high school, a normal step we're all expected to take. It's as if to gain access to what bell hooks calls 'the good life' one had to signify alignment with compulsory heterosexuality.
I knew that I could not even turn my ring 100 times without kissing a girl. No way I'd risk putting a guy's name at the end of that glossy list – someone I'd actually dreamt of French-kissing. Not like I knew any guy who'd be game. Damn. This was a lot of pressure. This junior prom was forcing me to make all kinds of adult decisions.
"The more I get of you, the stranger it feels…"
I was 16, and wasn't out yet. Unlike at twelve when these feelings first bubbled over, by 16 I was on the cusp of self-acceptance, and preparing to face this possibility that I was gay. Perhaps it was pure timing. By the 11thgrade I knew for sure I'd be leaving home months after graduation, which was suddenly within reach. I could chart my own homo path. But still, at that age, I had doubts. I tried seriously dating a young woman as my last-ditch effort to see if I was straight or (at least) bisexual.
Kaye wasn't a classmate, which wouldn't have worked anyway because in retrospect all my classmates already knew, and had decided to accept me without question. Kaye attended an all-girls' school, so we'd met through an extracurricular, Black youth empowerment program. Kaye was clearly college bound. She had her own dreams and ambitions, and pursued them – an ideal mate for me. She was the most attractive woman I knew, both inside and out, both to me and others. Yes, THAT sister who is not invulnerable, but has it all together. If she didn't do, then dammit I was gay!
Fortunately, my girl was smart. And by smart, I mean that she was intelligent, real smart as in NOT clueless at all. We agreed to a kiss on the cheek, and she'd sign the last line on my glossy form. And by 'agreed to', I mean that this is what Kaye put on the table as her firm and final offer. She also had the good sense to let me turn her ring, too, but she reserved the 100th signature for someone special. I respected that. This clarified our plutonic status – no Facebook updates needed: I'm gay.
"Gotta find out what I meant to you…You were sweet as cheery pie/ Wild as Friday night"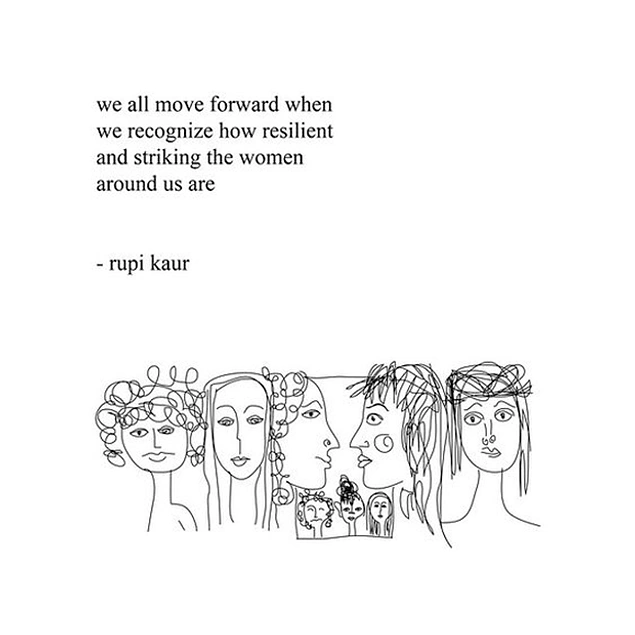 This month marks Women's History Month. It's a time where I reflect on how privileged I am to be surrounded by a group of women who have added so much to my life just by being in it.
I am also reminded of writers and poets (both past and present) like Woolf, De Beauvoir, Lorde, Walker, Kaur, Attwood and Evaristo whose words have not only added so much to my outlook on life but they also continue to remind me that as a woman I need to continue to listen, provide support and uplift other women. It is incredibly sad but necessary that we need to be reminded of the need to support one another.
Women's History Month has coincided with the murder of Sarah Everard, another of the many women who have been murdered by men whilst walking home alone. The policing and arresting of women at Sarah's vigil, the justifications for such arrests and the events themselves are now being reported as false. Followed by the government's predictable draconian response to silence and restrict protesting rights is maddening. And more importantly, the solidarity illustrated with women gathering to pay their respects to Sarah has now been spoilt due to these damaging enforcement responses.  
I find it so sad that commentary by some women surrounding the murder of Sarah had taken the stance of defending men. There are so many very good men in this world, and it is true that not all men are bad, but the reality is that men tend to be the perpetrators when other men, women and children are murdered.
We live in a society which reinforces gender inequality, oppression and stereotypes about women to the point that women internalise misogyny. As a result, some women are quick to defend men to the point that, in some cases, men who are the perpetrators are presented as the victims. And the women who are actual victims are blamed for their own victimisation.
This attitude towards women comes at the detriment of not allowing the space for people to begin to consider that femicide and gendered violence are the damaging consequences of living in an unequal society. The pain caused to the victims also becomes either diluted or made invisible. This is especially the case with Asian or Black women's victim experiences, as these are rarely found within the news, and if shown, are rarely believed.
There are many obstacles faced by women who attempt to flee routine gendered violence. Attempts to seek support can result in many women losing their homes, jobs and contact with their friends and families. As well as this, women who intend to report being victims of gender-based violence may battle to overcome the stigma that is attached to being a victim. For women with visas that state that there is 'no recourse to public funds' escaping violence becomes even more difficult, post Brexit, this now also applies to women from the EU.
Whilst online debates occur surrounding Sarah Everard's case, the reality is that many women are scared to walk alone. Many are also scared to live within their own homes due to the fear of violence. If we are quick to defend men in light of such tragic events how will we ever be able to support these women? How will they ever feel empowered to report being victims of crime? Yes, not all men are bad, but when a case like Sarah's is publicised perhaps our first response should be  empathising with other women.